New Patients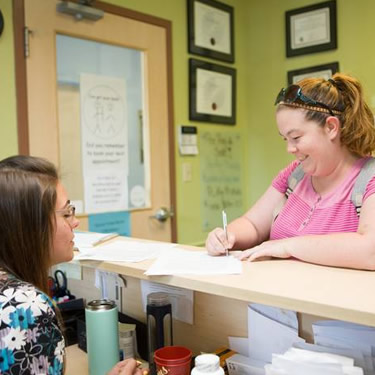 Windsor Neck & Back Care Centre offers a fun, family-friendly environment where everyone will feel welcome. Sometimes, our patients will stop by outside of their appointment times just to say hello and have a chat with us. We're here to serve you, making your experience as smooth and easy as possible.
Your First Visit
Please wear comfortable clothing to your appointment. When you arrive, our staff will introduce themselves. We'll take your identification and insurance information. Then, you'll meet with Dr. Elizabeth or Dr. Mike in a private room to speak about what's brought you in. We'll discuss your concerns and health history.
The next step is to have an examination that includes
Orthopaedic testing
Muscle testing
Range of motion testing
A functional analysis
You'll receive a brief report of findings and get our recommendations, as well as what you can expect from care. You'll receive an adjustment on that day. In total, this appointment takes 45 minutes to an hour.
Your Second Visit
At your next appointment, you'll be here for about 20 minutes. Your visits will go according to your personalized plan. We'll briefly go over your findings again, then provide the proper form of care for you. It may include spinal manipulation, myofascial release, muscle work and exercises.
Your Care, Your Choice
When we first start seeing you, you'll have more frequent appointments. You aren't required to stay under care for any particular amount of time. Most of our patients choose to come in regularly after their pain is relieved because they feel they benefit from it. Others want to see us only when they're in an emergency situation. We leave the decision to you!
We're open late for your convenience. Call us today to schedule your first appointment!
CONTACT US »

New Patients | (519) 971-7770